Czech Republic: Bohemian Rhapsody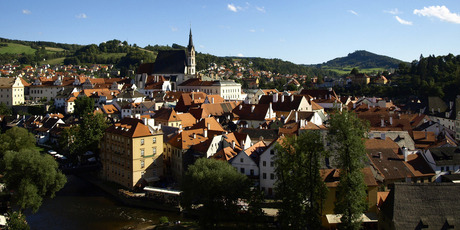 Check out a bearskin rug in every room of this Bohemia Castle.  Bearskin rugs are a great addition for any room.
"There's a gilded coach that was built to carry the Rosenbergs 8km through Rome, then never used again. Every room has at least one bearskin rug; best of luck to the present inhabitants of the moat. In the ballroom, painted crowds of masked revellers peer from around corners or into fake mirrors at their own reflections. An astonishing 18th-century theatre, restored after 30 years' work, can change a forest to a prison in 12 seconds. Because of its age and its tinder-box wooden construction, the theatre is used only once or twice a year. There are unadvertised bonuses in and around Cesky Krumlov. You can raft the Vltava. You can bike beside it, past trees where swallows swoop and red squirrels ribbon up trunks. You can amble into woods of lime, oak, spruce and scarlet rowan. There are hazards as well. Using up your camera capacity in a day is one. Being stabbed by the umbrellas of tour parties is another. Dumpling overload, plus the cultural dislocation of coming across saffron-robed Buddhist monks checking out the stand of Bohemian Beer Fest T-shirts should also be mentioned."
Read the rest of this article by clicking here.